Dande Anti-Poaching Unit - First period 2023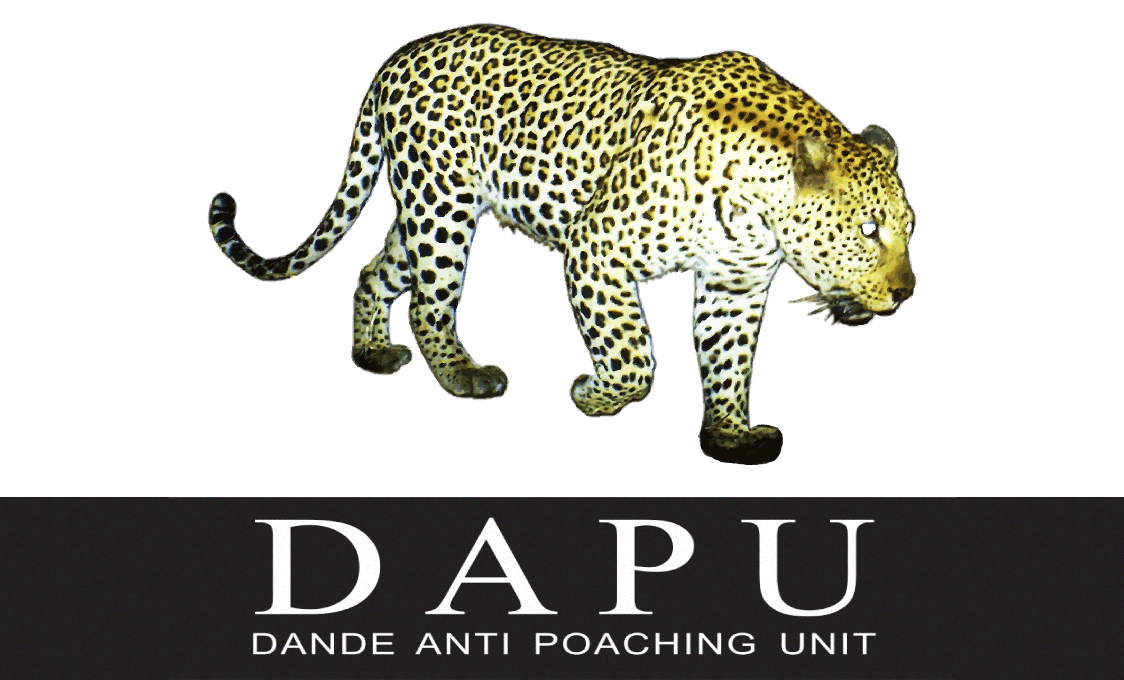 Charlton McCallum Safaris
---
INTRODUCTION

Dear Friends,

Let me start by thanking you all for your continued and unwavering support, which has helped immeasurably in keeping DAPU going.

The 2022/2023 rainy season was precisely average, and whilst total rainfall was almost identical to the 2021/2022 season, the monthly averages were more consistent hence better crop yields. Because crops were decent, this did translate across into increased Human Wildlife Conflict this rainy season. Crop yields are up year on year, so likely (hopefully) we look forward to lower snare yields as the year goes on – it will be interesting to see!

Most concessions in Zimbabwe are in "protected areas" and require very little in the way of policing. However, Dande is certainly the largest and most complex community wildlife area in Zimbabwe, and it needs constant and proactive monitoring, or else 12 years of gains could be eroded in just 6 months. This would be truly a tragedy, especially after what we have all achieved.

We have continued to meticulously document all your support, deployments, wins and losses, and here we share a summary with everyone who so graciously and generously supported all our efforts both financially and in kind.

As we grow from strength to strength, we look forward to your continued support.
All the best,
Myles E. McCallum
James D. Charlton
Charles Ndondo
Harare, Zimbabwe
---
1. Global and Local Inflation
High global Inflation, coupled with an even more acute local inflation situation, is making itself felt in Dande. Prices in local shops are sky-high, which of course adds to general poverty and will continue to be a driving factor with reference to subsistence poaching, commercial poaching, and illegal gold panning. Zimbabwe's economy and currency are famously volatile, often making it challenging to maintain high morale amongst staff.
2. The "rainy season"
The rainfall in Dande tends to be erratic which is why it is zoned in "agro-ecological region 4", which indicates a marginal region for traditional agriculture - but really is world-class for wildlife.
As already mentioned, the totals for the 2022/2023 rainy season were exactly average, and crop yields were in the average to a decent range. Annually there are floods that destroy crops planted on riverbanks, but those crops should not be planted there. Currently, the local farmers are busy tending to their fields, making the most of their harvests. It is quite interesting to track rainfall (good harvest/ bad harvest to high or low poaching). Basically, subsistence poaching does track food security to some degree. The rain finished early this season, but there were no dry patches mid-season, so this helped the farmers.
All reports from DAPU and staff indicate that the game has had an excellent breeding season, and we are all looking forward to getting into the bush and seeing this for ourselves!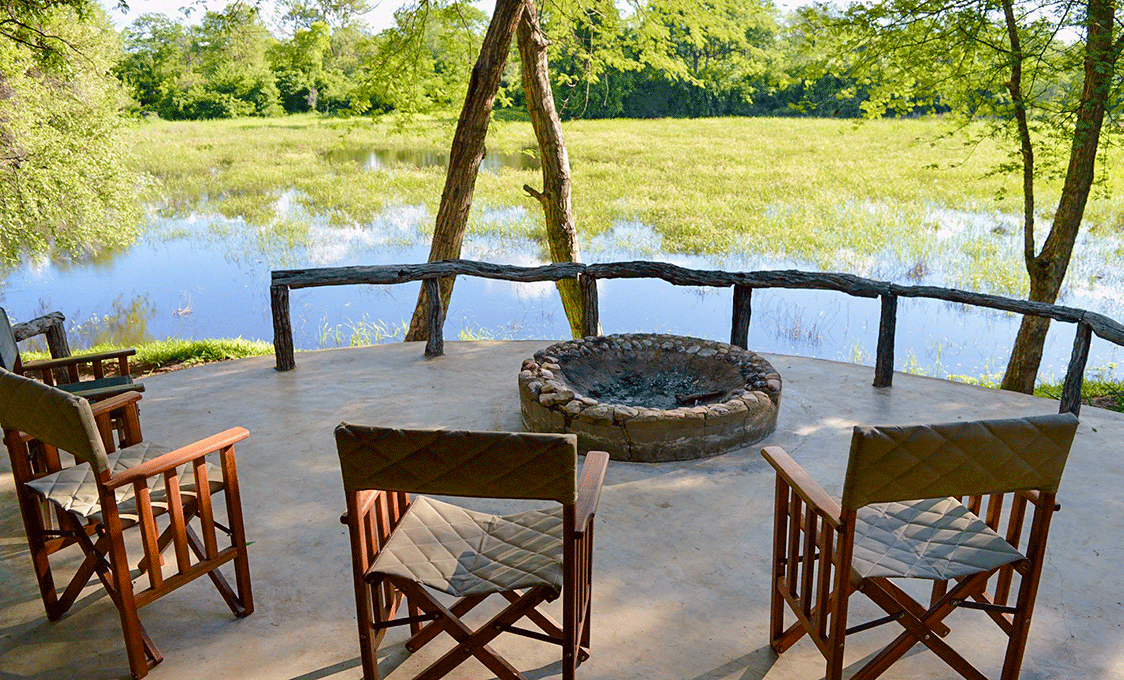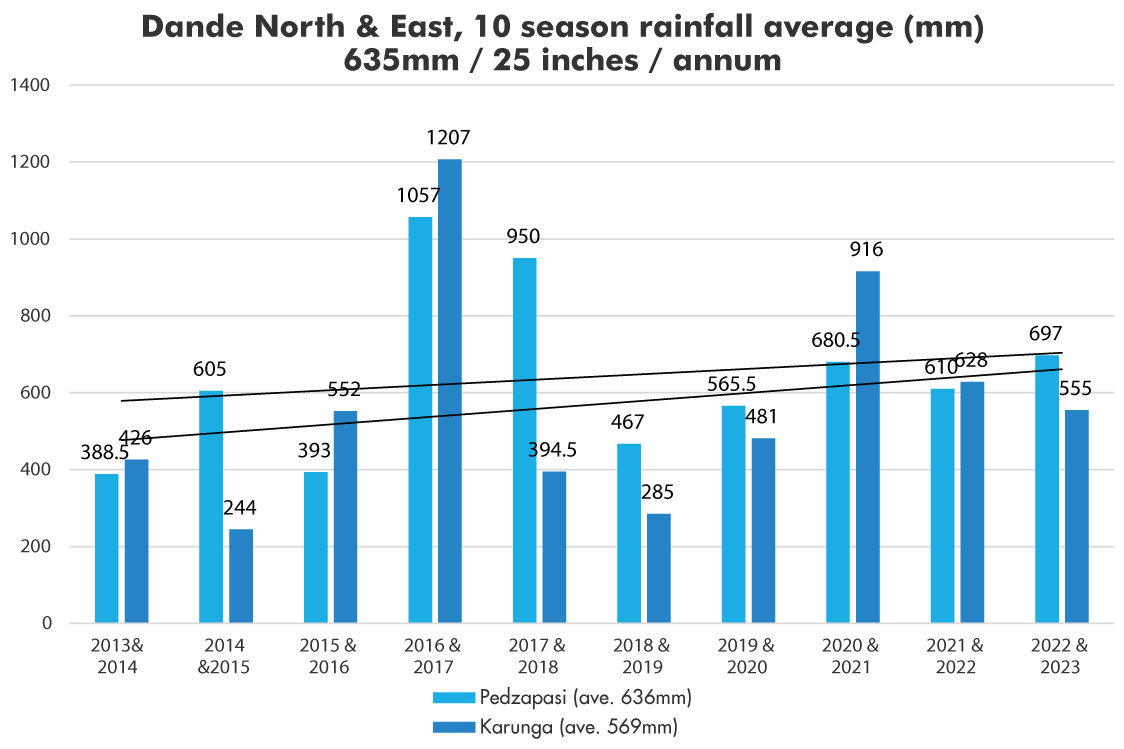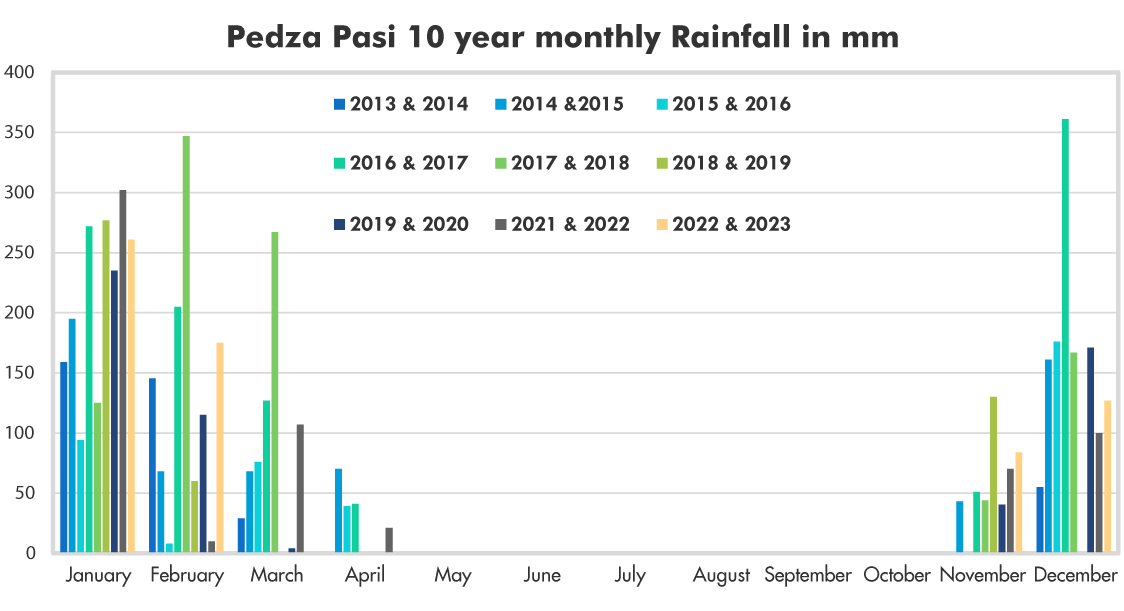 3. Snaring and General Poaching - first period 2023
The results have been really, extremely pleasing. We only picked up 63 snares (compared to 109 in 2022). Poaching is at a low/normal level. And most importantly, the low snare yield has been backed up by our own observations in the field. Undoubtedly as harvests are gathered, some locals will have a little more time on their hands and will use it to poach, but we feel that DAPU will be ready for them.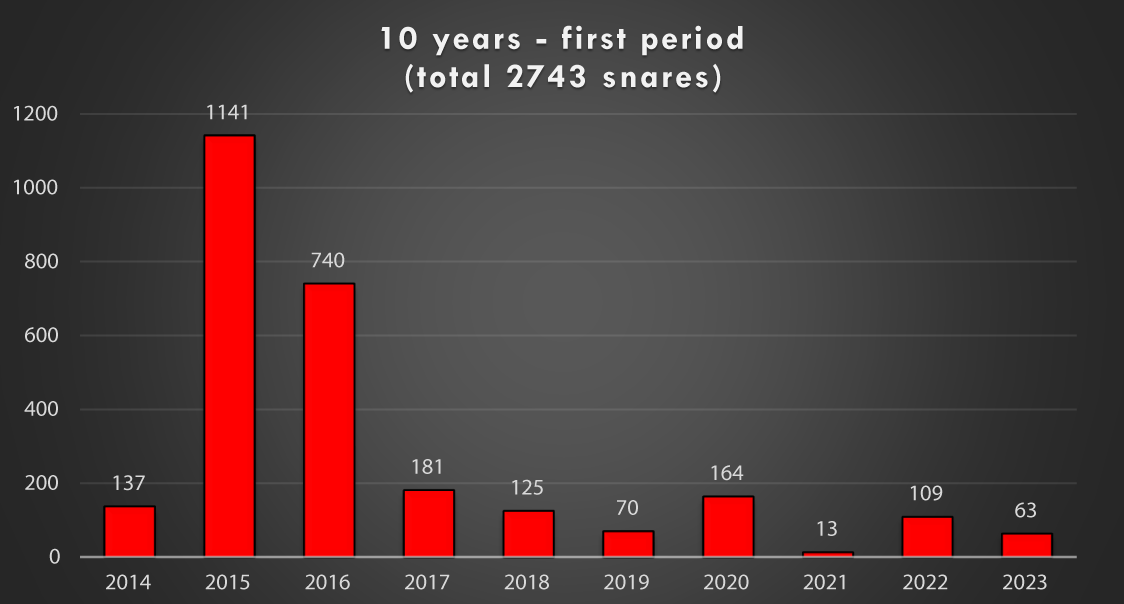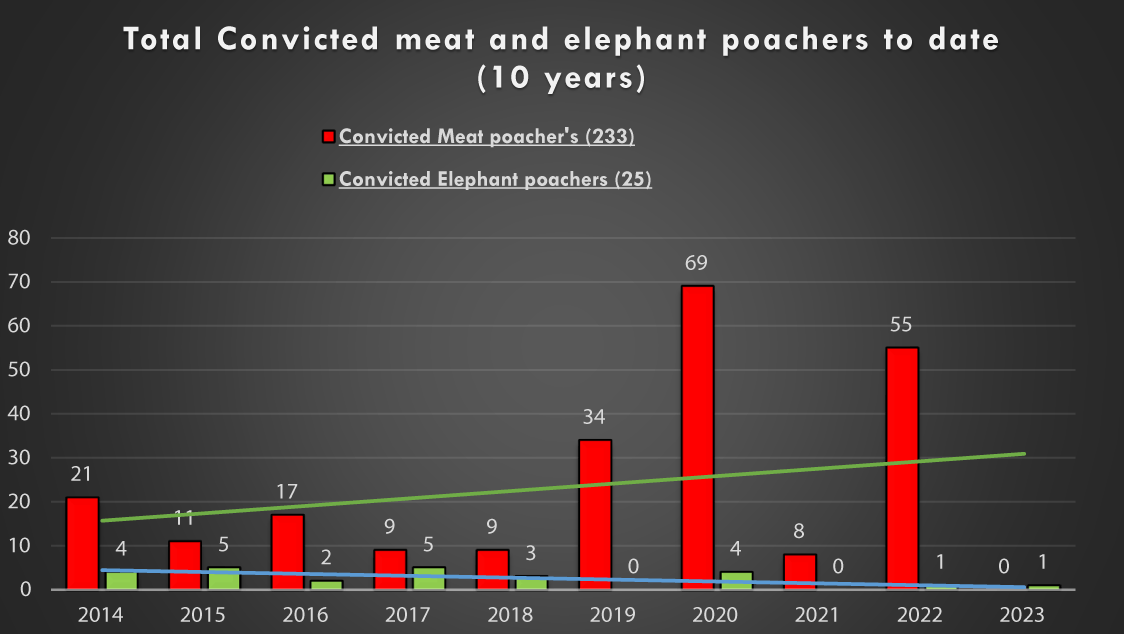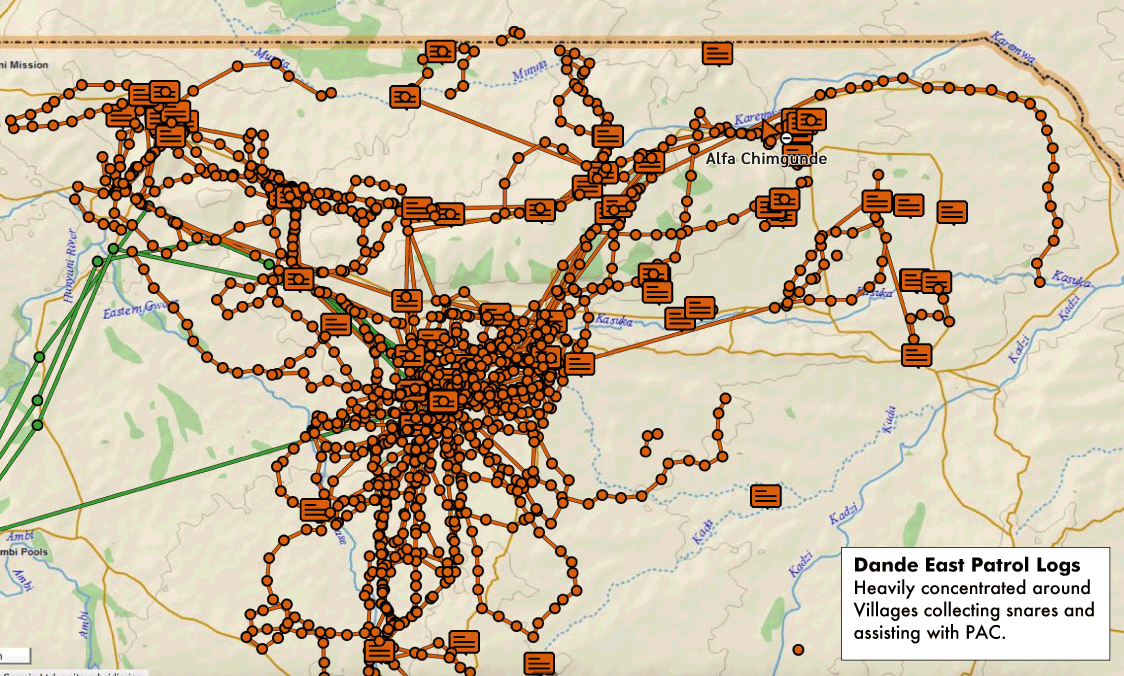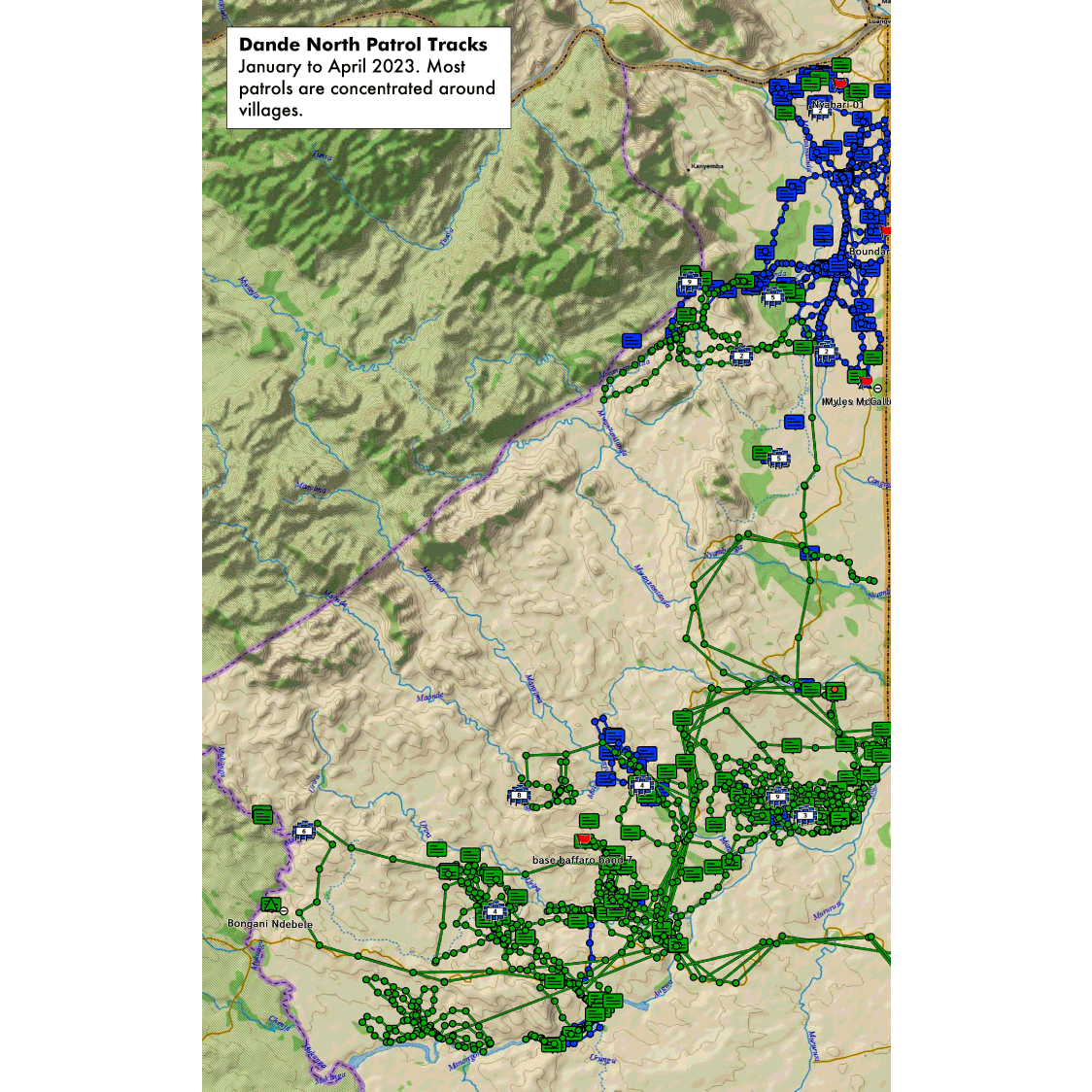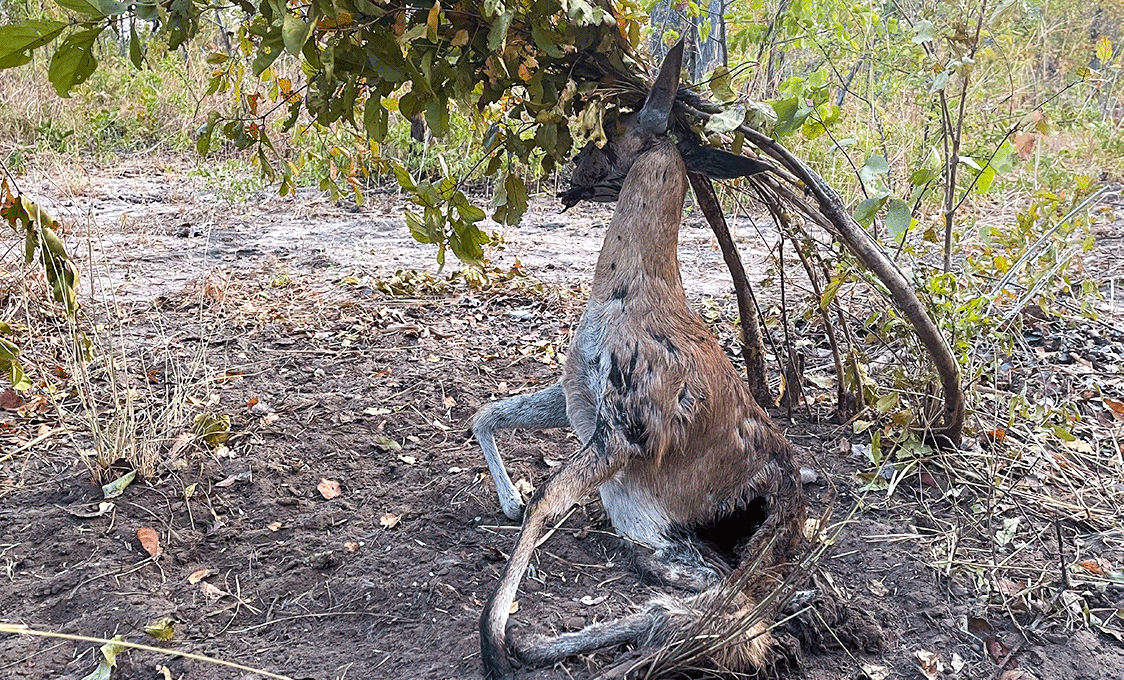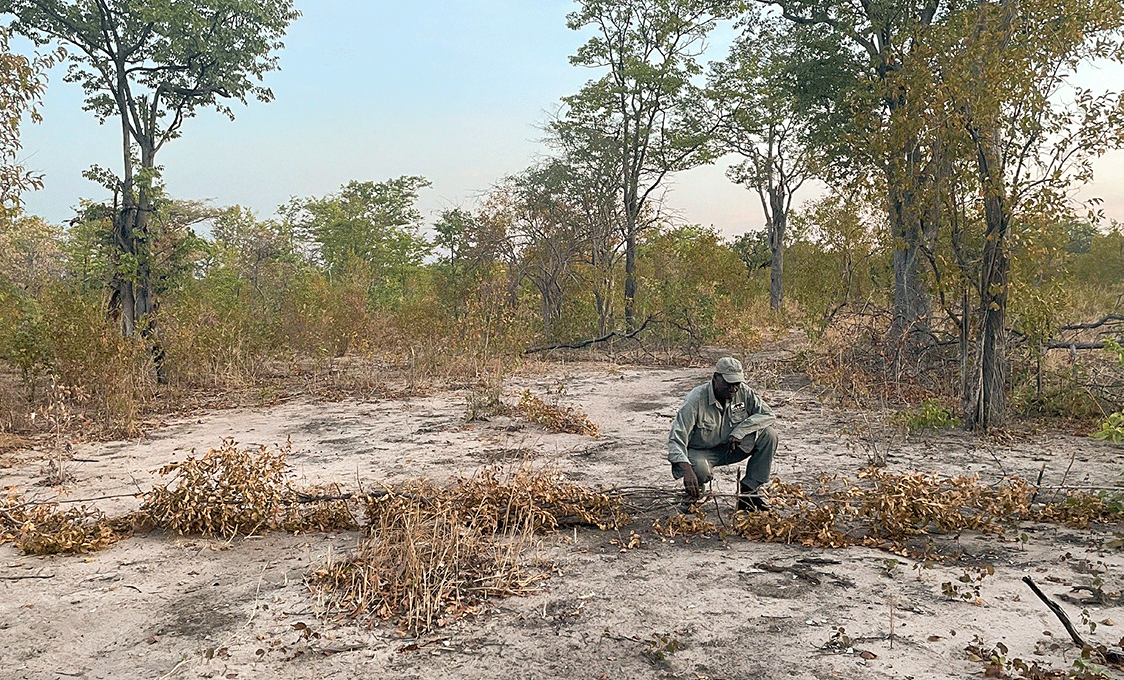 4. Elephant Poaching
Unbelievably, once again not much to report, yet in 2023, just one elephant was illegally killed – but not for the ivory, so not entirely sure if this is classified as truly poached. Just incredible to think in 2010 we estimated that 40 were poached to now nearly zero! Also of interest …
not one carcass found in the last three years has had its ivory removed, which signals strongly that the risk associated with being caught with ivory is too much. Strong deterrent sentences handed out by the Govt. of Zimbabwe have also been a positive contributing factor.
We are noting that especially in "The East", where the elephants used to make one super herd (of about 300 animals) for protection, that now have dispersed into normal family units again.
In the past, all hunted elephants were "carrying lead" from poachers – this is now no longer that prevalent.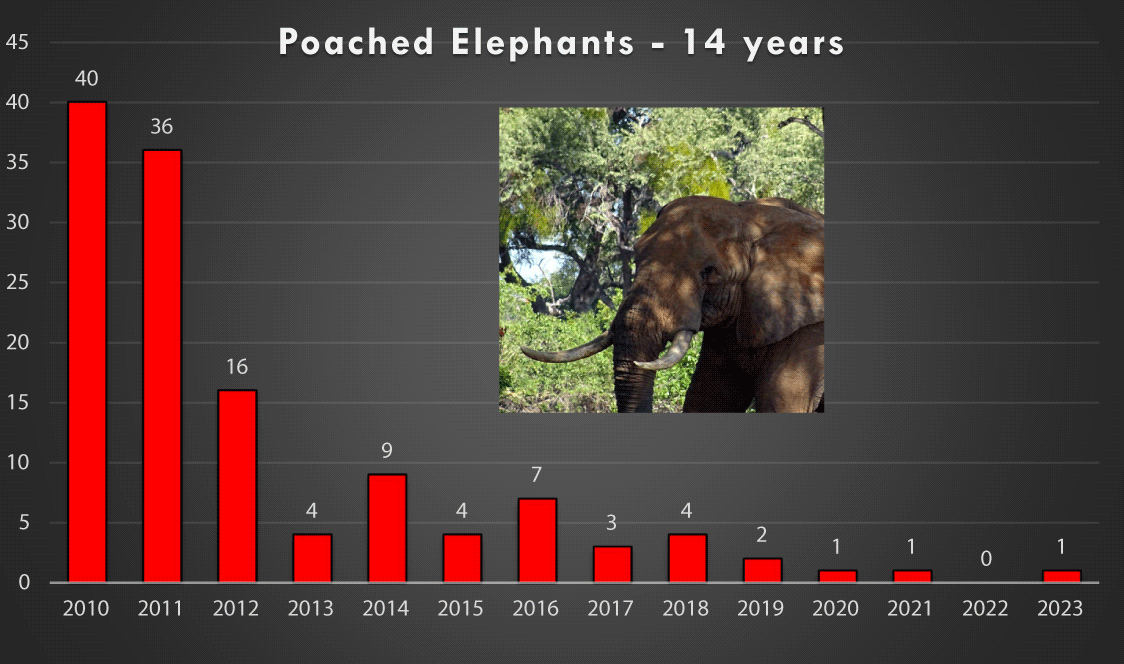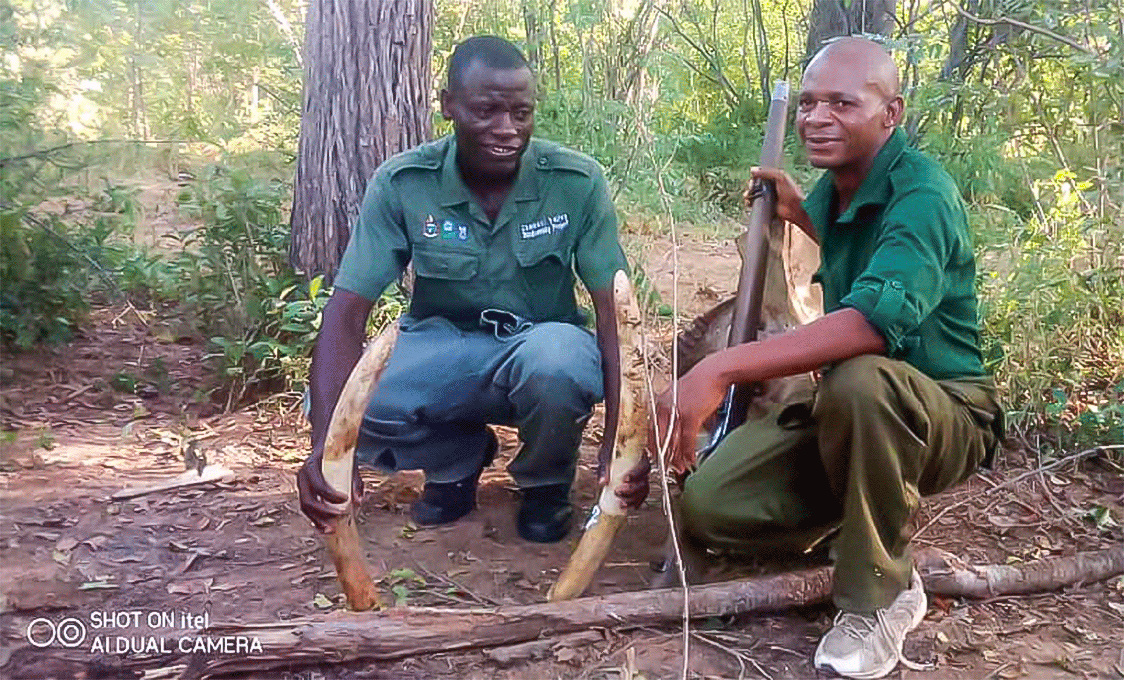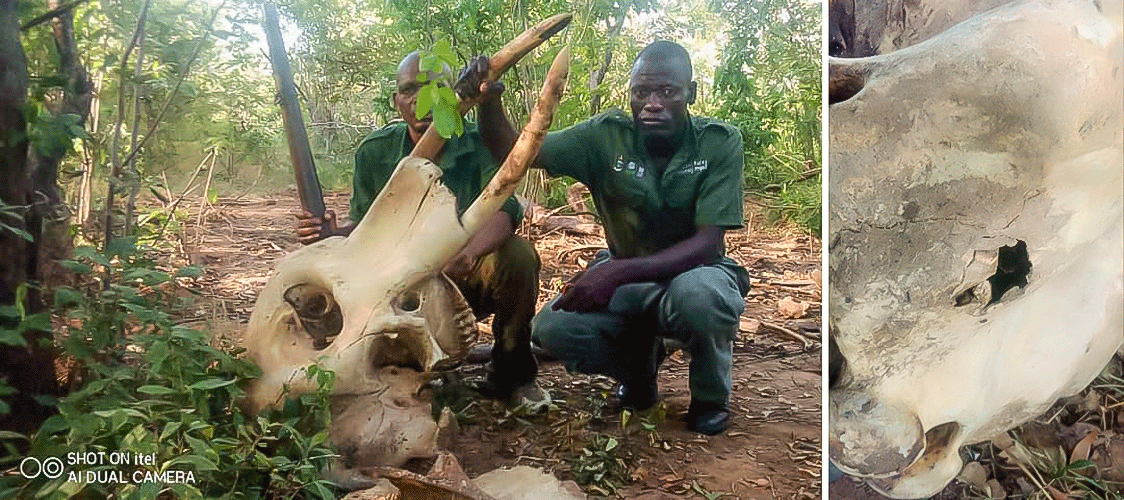 We did find one elephant cow carcass – clearly, she had been shot in the head, but the ivory was recovered intact. Almost certainly a retaliatory killing for crop raiding.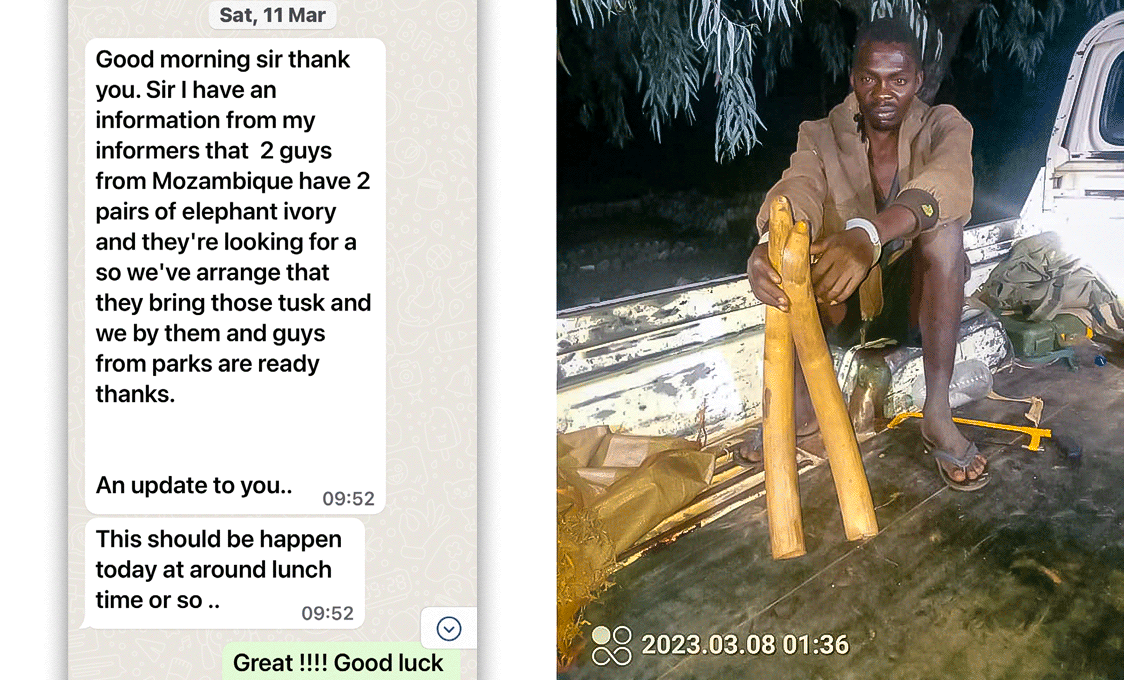 5. Gold Panning
High global gold prices combined with huge unemployment and rampant inflation have created a perfect storm with respect to illegal gold panning. The panning itself is hugely damaging environmentally and comes along with poaching, general crime and a whole host of other undesirable activities. So far, we count ourselves lucky in that the panning has been only during the rainy season and mostly on the periphery of our areas namely on the Mukanga, Angwa and Mwantamtanda rivers. There was a little along the Maunde River early season of 2022 – but we believe it was not very successful. It seems the gold gets washed out of the Zambezi Valley escarpment in fast flood water, then as soon as the rivers flatten and water slows down, it drops out of the water and gets trapped in rapids. Thus, the rivers with rapids closest to the escarpment are richer in gold.

The gold panners are most active in the rainy season and take advantage of water in the rivers (which they need for operations), poor access for DAPU and no hunters in the field. Arial patrols are also difficult due to stormy weather. A little like elephant poaching, we will gain a clearer picture as the season begins of what the gold panners have been up to when our hunters start walking to these out-of-the-way places.

Generally speaking, as panners are always needing to go back to the same spot and are distracted digging they are relatively easy to apprehend. The expense of processing them is huge and sentences handed out if at all are normally no deterrence at all, but we keep going and have thankfully managed much better than our neighbour's.
6. Charcoal Production
Charcoal production is somewhat new to Dande and to Zimbabwe in general (although very common in Zambia, Tanzania, and Kenya). Generally, not a rainy season pastime, but villagers will burn down thousands of mopane trees in just days, make charcoal, bag it and smuggle it out to Harare for sale. Luckily our local authorities are quite supportive of our efforts to stop it, and we had good success in late 2020. Once again, this is a peripheral activity, not in our "core areas" as it were, but definitely we do not need this destructive behaviour encroaching! So, we are taking it seriously and paying good rewards for convictions. No charcoal making reported since November 2020 within our core areas. The riskiest months are August onwards.
7. Canoe Building
Another seemingly harmless pastime – Mozambiquans contract Zimbabweans to fell huge old pod mahogany trees (Afzelia Quanzensis) or the White Syringa (Kirkia Acuminata) then they hollow them out into dugout canoes for sale to fisherman on Lake Cahorra Bassa. They work on these canoes during the dry season and then float them down one of the tributaries to the Zambezi for sale once the rains have started. Whenever possible, we put a stop to this. Nothing reported yet in 2023.
8. Human and Wildlife Conflict
Duties for DAPU scouts include attending to Problem Animal reports (PAC). The peak season for PAC is during cropping season from January to the end of May. The major problem species are elephants, lions, crocodiles, and hippos. All are impossible to wean from their bad habits and invariably genuine reports end in human tragedy or the offending animal is shot.

National Parks second rangers to DAPU for all PAC duties. Our constant goals with Problem Animal Control are:
a. Protect human life.
b. Protect property.
c. IF POSSIBLE, deal with the offending animal by chasing it or them away using non-lethal means.
d. Last resort is to shoot the animal. However, in cases where life or property is threatened, we do not hesitate.
8.1 Elephant
Unfortunately, elephants are the prime culprits for almost all callouts, and 2023 has been a fair cropping season they have made themselves especially unwelcome. Each night DAPU crews have been out chasing them. We had two vehicles and teams on permanent standby for 4 months, and it's hats off to the DAPU staff, overall, they managed very well.
Despite their best efforts, liberally employing chilli bombs, shotguns, bright lights, and noise, five elephants had to be shot. All cases were totally genuine, repeat offenders and all young elephant bulls. 2023 has been our worst year in 10 years in terms of number of elephants destroyed.
8.2 Lion
Relatively quiet so far in 2023, and fingers crossed that it remains that way.

8.3 Buffalo
No reported serious problems to date in 2023. Herds and dagga boys do tend to wander through cotton and maize fields, especially early season, but we have not had any serious complaints.

8.4 Crocodile
Five attacks reported so far in 2023. As soon as the rains start and rivers begin to run, crocs immediately move up rivers from the Zambezi and take advantage of the dirty water to become a menace.

8.5 Hippo
Multiple problem hippo reports, but so far, all appear to have resolved themselves without a hippo being shot.

8.6 Snakes
One bite but no reported deaths to date in 2023.
9. Netting on the Zambezi
DAPU continues to contribute 200 liters of petrol per month toward efforts to eliminate illegal fishing in a 50km stretch of the Zambezi River. Generally speaking, illegal netting has been much reduced, and sport anglers and legal netters are reporting better catches.

In the big picture, the reduction in fish poaching has had a significant effect in reducing game poaching, as the fish poachers were often responsible for the poaching of elephant and other game animals. The diameters of their nets had become noticeably smaller over the years, clearly indicating a seriously depleted fish reserve.
10. Goals for 2023
We plan to:
Hold miners and farmers to account and try and mitigate the damage that they are causing.
Open all roads, (nearly 1000 km), then immediately pivot to early burning to better control late season bush fires. Annually we have 80 people, 3 tractors and 2 Landcruisers employed full time for 3 months doing this!
Keep going with the anti-poaching! The PAC season is over, so now we migrate to traditional anti-poaching.
Funds allow expanding DAPU to give us two extra patrol "sticks" … one each for Dande East and North respectively.
To improve accommodations at solar water installations for the guards so that they are also able to house DAPU patrols.
To continue to cushion DAPU staff as best we can from inflation.
Complete water projects.
11. Water Projects
These projects will get water into the areas of Dande that need it most. Because of International Borders and human settlement, often big chunks of wilderness land are left without any natural water for animals. In short, the game's traditional water points are no longer available to them OR are on the wrong side of an imaginary line (border).
So, the benefits will be:
• Year-round game and water in Dande
• Increased benefits to communities
• Less human-wildlife conflict at water points close to villages
United Nations Development Program, The African Wildlife Fund and CM Safaris
As mentioned in previous newsletters, the UNDP GEF 6 project has successfully drilled x 3 boreholes in Ward 1 / Dande Safari Area and 1 x borehole in Dande East in 2021, and the A.W.F. also drilled and equipped one in the East. These boreholes were all sited after collaboration with CMS and have already made a big positive difference in the landscape.

All (bar the flagship project, which is to take water into the core area of the East) have been completed and commissioned. CM Safaris are in negotiations with Mbire RDC and UNDP with the idea of co-funding that outstanding project to have it completed – it was the one expected to have the greatest impact, and of course, it is the most expensive and complex.

So, 2023 will be the first year where all these installations (servicing 8 pans) will be in operation for a full calendar year. We are hoping that animals that are forced to go into villages or Mozambique for water will stay permanently now!

12. Collaring Elephants
The Research Unit of Biodiversity (UO/CSIC/PA), Oviedo University, Spain, contacted us in 2020, reference collaring 5 elephants (3 bulls and 2 cows), which is precisely the type of project that we would wholeheartedly support. The collars have been purchased, and both the Research Council of Zimbabwe and National Parks have issued the relevant permits. So now we just need to get the collars into Zimbabwe and book the helicopter and darting crew.
Unfortunately, this project has been delayed indefinitely because of bureaucratic issues in … Spain!!! The collars are still sitting in Madrid, which is a great pity as it was something that we were really excited about. Hopefully, we have some positive news in the next newsletter.
13.1. Renovations of the Gonono Primary School (Dande East)
This project has been well publicized, and the school has gone from having a pre-refurbishment enrolment of around 280 pupils to now over 500, so once again, there are a lot of kids attending school under trees outside, which at certain times of the year is wonderful but certainly not optimum long term! The Jack and Marjorie Schillinger Foundation has again come to the rescue, and plans are afoot to build a new three-classroom block. Drawings have been submitted to our Ministry of Education for approval, and as soon as the plans are approved, we will move onsite and begin work. The Foundation has made an initial $25,000 donation which will get us more or less roof high. Fingers crossed for a further $25,000 in early 2024, and we can have it complete and handed over!
13.2. Renovations of Pedza Pasi Primary School
Another Jack and Marjorie Schillinger Foundation donation in 2022 and effective refurbishments were done to this forgotten little school. Mr Dave Katzenstein (of the Foundation) recently made a very generous personal donation to bring the number of desks in the school up to par and those we expect to be delivered in June. There is always something to do and to improve on in these schools. These projects really touch the communities broadly, and everyone is always so grateful.
14. We must extend our profound appreciation to:
14.1 The Lubbock Sportsman's Club and The Dallas Safaris Club – Foundation
The DSC Foundation and the Lubbock Sportsman's Club (through the DSC – Foundation) have been our single biggest supporters for many years. They have helped us buy vehicles, equipment and with general running expenses of DAPU. Once again, in 2023, they have stepped forward and helped – more on this in the next newsletter!
The roads are poor, distances big and having a new vehicle to help with deployments and general management of biodiversity has been a massive bonus for DAPU. Vehicles are the single biggest cost for DAPU, and being that there are basically no functioning banks in Zimbabwe, we were forced to end up keeping older vehicles for far too long.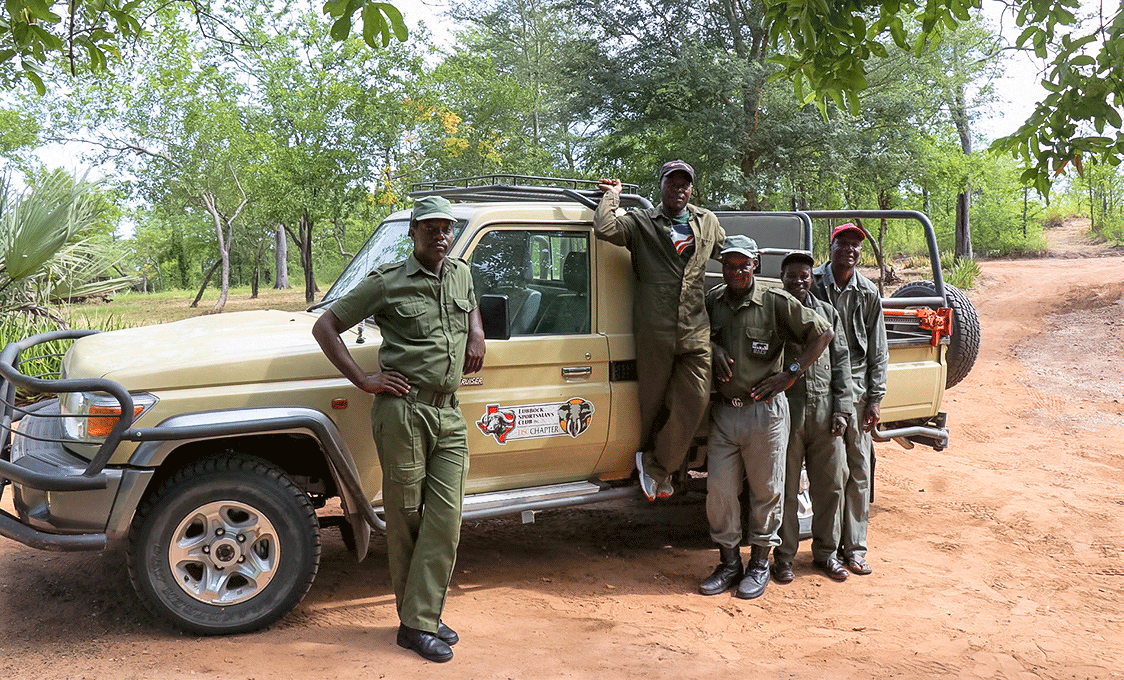 14.2 The African Wildlife Foundation
We extended the pipeline from Kabveve (in the Southern part of "the East") 4km northwards towards Karunga camp. This was a quick and cost-effective solution as the borehole, pump, and staff are already at Kabveve, it was simply a matter of clearing the line, trenching, laying the pipe, recovering and commissioning. The Southern part of the East is now fully watered (3 places) and future-proofed against new settlements with big 10m cutlines.
The AWF also drilled a prolific borehole near the Manyame River and has piped water into the Northwestern part of the East. Once again, this is geographically significant and hugely appreciated! These projects will add to the overall value of Dande East and its communities. This project was completed in 2022 and will be the first full year that we will enjoy the benefits of full-time water supply in these critical areas.
14.3 The Sylvarnus Trust
Quietly and humbly, DAPU sends a rather large cheque every year! The trust follows DAPU with keen interest, and we are eternally grateful for their faith in us. We really hope that DAPU makes them proud!
14.4 Flying for Wildlife
FFW has grown immeasurably in the last couple of years. They now have two of their own aircraft, piloted by Richard Tennant, Hannes Scholtz, and Richard Calder. Richard Thornycroft and Edward Whitfield use their personal aircraft to assist Flying for Wildlife. All flying is gratis to DAPU – it costs us nothing, and those who understand how expensive aviation is in Africa, will appreciate how significant this is! As things dry up and visibility improves, we hope to get FFW down for some aerial patrols. They have been just tremendous for locating:
• illegal charcoal making
• illegal mining and gold panning
• illegal settlements
Obviously, all three of these activities are ones that we plan to continue to focus on in a big way in 2023.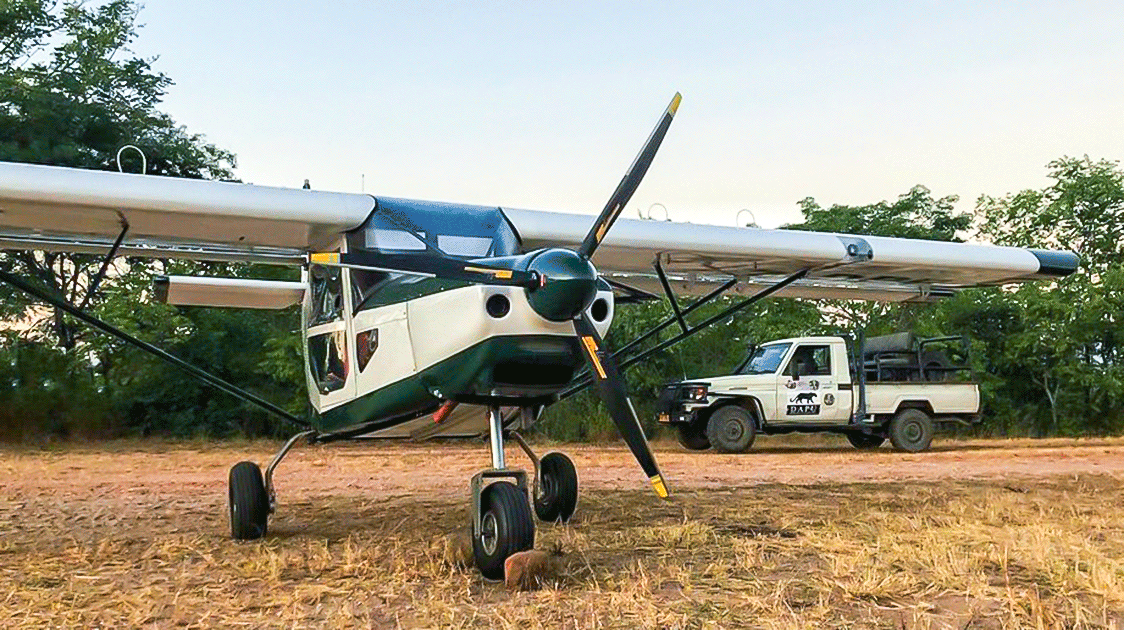 14.4 Trackit
Richard Tennant and Hannes Scholtz of Flying for Wildlife provide free, real-time satellite monitoring of the two DAPU vehicles. This has saved significantly on fuel and vehicle costs and has also helped us become much smarter with servicing and positioning of vehicles.
Individual donors
As previously mentioned, we have been truly humbled by all the kind folk who have donated to DAPU! Your generosity knows no bounds, and we will be eternally indebted to you! We shall endeavour to keep DAPU up and running to its fullest capabilities. We shall strive at all costs to keep poaching at bay, with the well-being of wildlife foremost in our minds.
We fully understand that times are tough, making personal donations even more special!
15. Conservation Force
We continue to work hand in hand with John and Chrissie Jackson of Conservation Force. John and Chrissie are proud hunters and legends in the fight for our way of life and the wild places we all love. They work selflessly and endlessly, aiding conservation and protecting the rights of hunters around the world. Thank you, John and Chrissie!
Conservation Force is a registered non-profit 501(c) (3) public foundation.
How to make a Tax-Deductible donation:
Please make a check out to Conservation Force
Mail to:
C/O John J. Jackson, III
3240 S. 1-10 SERVICE ROAD W.
SUITE 200, METAIRIE,
LOUISIANA 70001
USA
Check Ref: DAPU
Conservation Force Contact:
JOHN J. JACKSON, III
TEL: (504) 837 - 1233
FAX: (504) 837 – 1145
Email: Jjw-no@att.net
Website: www.conservationforce.org